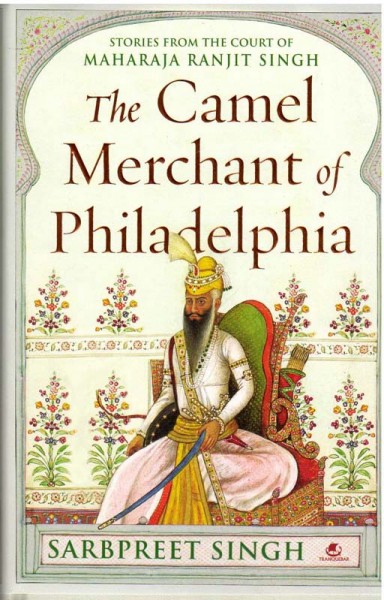 The Camel Merchant Of Philadelphia
Rs. 699.00
| | |
| --- | --- |
| | |
| Author | Sarabpreet singh |
| Publisher | Tranquebar Press |
Categories: Books On Sikhism, Guru Granth Sahib, Holy Books Of Sikhism, Sikh Books, Sikh History & Punjabi History, Sikh History & Punjabi History English, Sikh Religion Books, Sikh Religious Books, Sikhism, Sikhism Books, Sikhism Books English, Sikhism Holy Books, Sikhism Religion Books Online In India.
SKU:

6724

.
In stock
Compare
Product Description
In 1801, Ranjit Singh, the young scion of a petty fiefdom in the Punjab was declared the Maharaja of Punjab. The young man went on to carve out a kingdom that stretched from the borders of Afghanistan in the west to those of the British Raj in the east—the lush hills and valleys of Kashmir, the barren mountains of Ladakh and the fertile plains of his native Punjab. The British dared not engage in military adventures against Ranjit Singh, but valued him as an ally who would keep their western frontier safe.
The Camel Merchant of Philadelphia brings alive the king's dynamic court and his tumultuous but effective reign. In his court was Akali Phoola Singh, the tempestuous leader of the militant Sikhs, who won Ranjit Singh some of his most notable victories, but never fully submitted to his authority. The teenaged Muslim courtesan, Bibi Moran, was the love of the emperor's life. Josiah Harlan, a Quaker from Philadelphia (the camel merchant of the title), rose to become a trusted administrator, only to defect to the Afghans. Jean Baptiste Ventura and Jean Francois Allard formed the king's famed French legions and rose to the highest ranks of the empire's armies.
Sarbpreet Singh's compelling new history of Ranjit Singh's life and times humanises a great emperor without glossing over his flaws and foibles. He examines the maharaja's complex relationship with his mother-in-law, Mata Sada Kaur, arguably the chief architect of his ascension to the throne, just as candidly as he does the rise of the Dogra brothers, who began as humble soldiers and went on to scale unimaginable heights of power and glory in his court.
This is an unusually nuanced and complex image of Maharaja Ranjit Singh—a must-read for everyone interested in Indian history.